ukeyboard
Nokia N800 and N810 keyboard layouts.

Čeština
Available keyboard layouts
Currently, these keyboard layouts are included in the package:
On-screen keyboard:

Arabic (Lebanon)
Belarusian
Bulgarian (BDS and phonetic)
Croatian (QWERTZ and QWERTY)
Czech (QWERTZ and QWERTY)
Hebrew
Hungarian (QWERTZ)
English (Dvorak)
Esperanto (QWERTY)
Slovak (QWERTZ and QWERTY)
Thai (Kedmanee)

Sliding keyboard:

Bulgarian (phonetic)
Czech (QWERTZ and QWERTY)
Slovak (QWERTZ and QWERTY)
Polish
How to install
After the installation, go to Control panel > Text input settings.
Known issues
It is recommended to close the Control panel before installation/update. If you had the Control panel opened during installation/update, you must close it and open again before you invoke Text input settings.
Letters in the Arabic layout stick out to surrounding keys. This seems to be a problem in Maemo.
Other layouts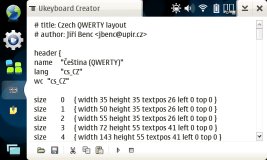 Contributions are higly appreciated. Send your .def file to the maintainer (contact at the bottom of the page). By sending the .def file to the maintainer you allow that file to be distributed under the General Public License (GPL) version 2 or higher.
For a description how to create a layout, see doc/howto in the source code. If you need a further help, just ask.
To test and bugfix a layout you've created, install the Ukeyboard Creator. It allows to test the .def file in the tablet by pressing a single button. No need to compile using command line programs (like in the previous versions).
Ukeyboard Creator - single click install.
Source code
ukeyboard, the keyboard layout package, is released under the General Public License (GPL) version 2.
The current OS2008 version is 1.8. The current OS2007 version is 0.3.1.
Changes from 1.7 to 1.8:
Added Belarusian on-screen layout by Darafei Praliaskouski.
Modified US Dvorak layout.
Download the source: OS2007 version, OS2008 version.
You can obtain the latest development version from a git repository: git://repo.or.cz/ukeyboard.git (gitweb).
Contributors: Jiří Benc, Hámorszky Balázs, Nickola Trupcheff, Paul Sweeney, Michal Příhoda, Marcin Juszkiewicz, Roman Moravčík, Ali Khadra, Ognian Samokovliyski, Panu Tangchalermkul, Lovro Orešković, Jan Yenya Kasprzak, Matan Ziv-Av, Paweł Dyś, Darafei Praliaskouski, Ethan S.
Maintainer: Jiri Benc, jbenc at upir dot cz